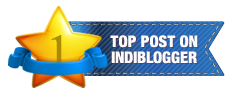 IndiSpire Edition 23: Treat Juvenile Rapist as an Adult and Punish Him and If proven they should be Hanged.
First of all I would like to laugh a bit on the term Juvenile. This term has been used over and over in so many Rape Cases. According to Wikipedia, A juvenile is an individual organism that has not yet reached its adult form, sexual maturity or size. According to Indian Laws, a juvenile is a male person who have the liberty to rape any girl he wants in exchange of a few years of a juvenile prison (only if the case is filed and after loooooooooong hearings, he is found convicted). Then how come a juvenile is not even more dangerous a creature than an adult one?
The 16 December 2012 gang rape case still brings shivers down my spine. Why I'm going so back in time is because in that case, one of the convict was a juvenile and also because after that case, I stopped reading news. The fact is that the newspapers are filled with so many such cases and as an emotional person, it is difficult for me to read such stuffs and more difficult to accept the fact that the Indian Judiciary System and Indian Constitution is so weak against the convicts.
How could a
person
animal
disgusting creature who knows how to rape a girl multiple times, how to force an iron rod inside her body and how to damage her vital organs with his bare hands can be considered as a human itself let alone be a juvenile. Why can't our laws and constitution undergo some changes as per the current need? Instead, we hear some politicians favoring those rotten mindsets. Why do we vote for them then?
I truly support the topic that has been raised. Anybody who is adult enough to rape a girl is adult enough to be hanged till death. For me, nobody is a juvenile these days. You can see school kids drinking, driving, drunk driving, eve teasing girls, roaming in the red light areas, watching porn, having physical relationship with their partners and so on. How can they be considered as juvenile? Why is our legal system blind to see the fact?
Readers often say that my posts are feminists. I don't even understand the true meaning of the term. All I can see is the pain they go through in day to day life (not just the rape victims). Our society is not even gentle enough to accept a rape victim as a normal girl. This is the reason why most of the rape cases goes unnoticed. This is the reason why many women commit suicide after being raped. For what I know, most of the convicts even kill the girl after humiliating her physically.
Post rape, a woman is hurt both physically and mentally. Her life is devoured hungrily by our society. It is really difficult for her to survive in this cruel world that surrounds her. If her entire life becomes a psychological challenge after the crime, then hanging the convict is the least that can be done. It does not matter what the age of such inhumane creature is, his mind is too rotten to be allowed to live in the human world.
If he can Rape, he is juvenile Adult enough to be Hanged.
Sign up here with your email