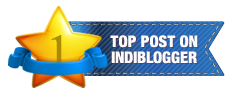 IndiSpire #24: Which bad habit of Indians would you like to change for our India?
I just don't know how I can pick just one. There are so many things that I hate and ironically those people responsible for it are proud of their disgusting deeds. I don't hate India but I hate some disgusting uncivilized people who are not worthy of the independence we are enjoying today. Since I can't pick any one thing, I'll try to sum up with the least possible and the most important ones.
1. Littering, Spitting and Pissing
The dustbin is just five steps away! But instead of dropping the empty wrapper there he drops it on the road. The government has allotted mobile bins and even a garbage cart that arrives every morning, but she throws the garbage on the park where her own kids play in the evening. He's going home but he stops by in the middle of the road to take a leak over the wall. Her kid felt the urgency while playing in the park; her home is just across the road but she asks him to do it behind the bush. He chews tobacco the whole day and spits wherever he want.
They are some educated Indian people.
2. Eve Teasing and Groping
One of them whistles at a couple with a disgusting comment to follow up. He does not even think about the fact that they can be siblings out for shopping. He does not even think that he can be out with his sister too and can receive the same treatment from someone else. He tries to fall all over a girl traveling in a bus. He tries to keep his hand over hers. He tries to touch her in all possible ways. He forgets that her sister travels through bus as well. He forgets that she can be a victim of this disgusting act as well.
They are some educate Indian People.
3. Poking their nose in others' business
She gossips about her neighbor's daughter who was merely talking to a male friend outside her tuition class. She forgets that the same issue can be raised against her own daughter by someone else. He deliberately asks the percentage of his friend's kid knowing the fact that his son has scored better than his. He forgets that one day, his son may fail too. She pokes her nose on the fact that her friend's daughter is not able to get a job and makes fun of the fact indirectly. But can't it happen with her own kids? He tries to boast about how they forced his in laws to pay a handsome amount of dowry in front of his neighbor who did not receive a car in dowry. He forgets he has a daughter too and he forgets that it's a shameful act with nothing to boast about.
They are some educated Indian people.
4. Explicit PDAs
She kisses him while he grabs her firmly in the Metro even though aware of the fact that the cameras are installed and might be recording everything. He pushes his hand in her top while kissing her even though aware of the fact that he is sitting in a well-known area and the passerby's are watching them, making fun of them and some even clicking pictures from a distance. They make out behind the bushes of the park. They get physical behind the wall of a temple. They are everywhere making it difficult for you to go anywhere with your family.
They are some educated Indian people.
I want to change them. I want to change them all. These habits of Indian disgust me the most. I feel infuriated amongst these things.
The reason why I have highlighted the fact that they are educated Indian people is because if after being educated they are doing such things, then you can't expect anything from the illiterate ones. Before commenting on the post, please keep in mind that all the things I had mentioned have been witnessed by me only and all these things are real not fictions. And yes, all of the people I mentioned above are usually from an educated fraction of our population.
Sign up here with your email